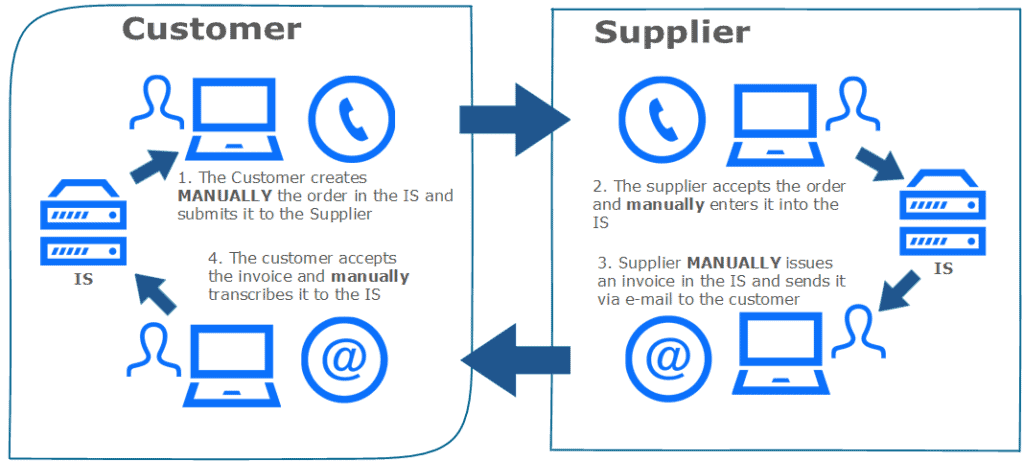 artipa.EDI offers a proven and standard solution for exchanging business documents in electronic form. It is a tool for streamlining communication and document management processes. Do you need reliable, efficient and fast exchange of business documents for various segments of industry and business? Take advantage of the artipa.EDI service and streamline the processes in each of the business-supply channels. Electronic data exchange services allow you to send and receive orders, invoices and other documents cheaper, faster, error-free and without paper. The artipa.EDI services are characterized by different variants of deployment according to the user's focus and use. From simple to more complex units.
Electronic Data Interchange allows electronic documents to be exchanged directly between computer or information systems that communicate automatically, with a minimum of human resources (or without human use). It is therefore a direct data connection of individual applications that are part of these systems.
Generally, it is necessary for the EDI communication to determine the form and the way the data transmission is organized, which ensures the worldwide uniformity and independence of EDI communication. International and national standards are the platform of artipa.EDI. International document formats are, for example, ODETTE, ANSI.X12, EDIFACT, and others that describe syntactic rules for message construction, codify approved standard messages, message segments, data elements, and code lists. The artipa.EDI communication, whose important element is the replacement of hitherto necessary "physical" stamps and signatures with a digital signature, is used in a number of areas such as automotive, Retail / DIY, banking, logistics, etc.